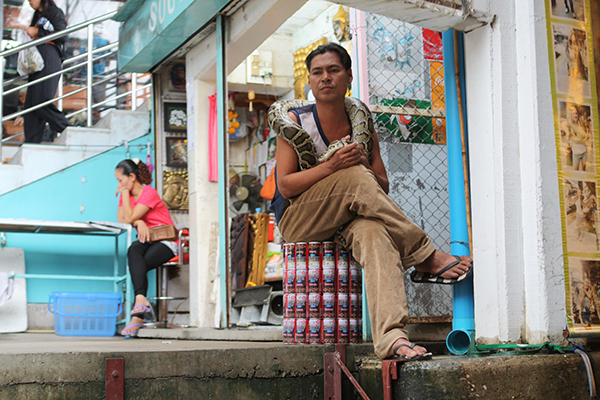 Between Singapore and Bhutan, I made a short stop in Bangkok, Thailand. I had visited both, the Southern beaches and Northern jungle before, so I didn't feel the need to tour it again. Also, I find Thailand to be way too touristy for my taste. My plan was to spend there just long enough to organize my visa for Myanmar.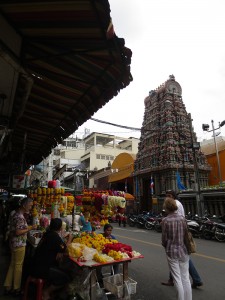 I don't think of Bangkok as being a nice city. It is busy, crowded, polluted, just like any other big metropolis in Southeast Asia. But nevertheless I can't help feeling sympathetic towards this town. After all, it was my fourth time visiting it. Each consecutive visit was a few years apart, and each time I visited it, I was waiting to transition to the next stage of my life. The first time was a simple tourist visit, the second time I was waiting for important exam results that would determine the course of my studies, the third time I was about to move to the US but didn't know it yet, and the fourth time – now – I am transitioning from my PhD to a new job.
Given my history with this city, I couldn't help but walking down memory lane and visit all of the places I visited before. I am always amazed how much can change in a couple of years. Big crowded warehouses filled with illegitimate stalls have been replaced by hyper-modern malls that sell the usual western brands: Gap, H&M, Zara, Levis, etc. The infamous Koh San Road that I hadn't visited in almost ten years was only barely recognizable. It has lost its bohemian atmosphere and was now filled with bars, massage parlors and travel agencies. It used to be a place where backpackers on a really tight budget could find a room for $1-2 a night and exchange travel stories and tips. For so many travelers, Koh San road either marked the beginning or end of a long trip. It was a place where friendships were made and ended. Sadly, now Koh San road seems to have become an outlet for Western stupidity. I found it to be filled with drunk Western teenagers who spread a lot of money but little respect. I really hate how tourism can destroy a place…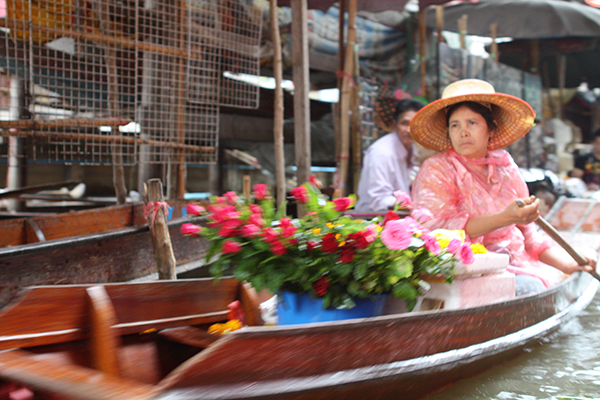 Despite the good and not so good surprises when rediscovering Bangkok, I enjoyed my time there. Somehow, I always end up with some dubious tasks when I am there. This time, I had exactly three tasks: 1) get my Myanmar visa, 2) get pristine looking dollar bills, 3) buy some jeans.
Myanmar visa: this seemed like a trivial task. However, the embassy of Myanmar distributes a fixed number of visas every day. This means that you have to get there a few hours before the embassy actually opens and stand in line. I got there 1.5 hours before opening and about 20 people were already in front of me. By the time the embassy actually opened, the line went around the block. If you are unlucky and they have reached their pre-determined number of visas, you will just have to come back the next day. I was lucky that day and got my visa on the first trial.
Pristine dollars: In Myanmar, everything is payed in cash using dollars. But they only accept "new" dollars. The dollar bills cannot have the mark of a single fold, and can definitely not have anything written on them. Finding such dollars in Asia is definitely easier said than done. On my first day in Bangkok, I toured many banks and currency exchange offices and carefully inspected each dollar. I was lucky in the end and managed to collect $700 pristine dollars.
Jeans: Every time I come to Bangkok, I buy 5-6 pairs of jeans that will last me till my next visit. It's a small tradition that I have started since my first visit. I also always go to the exact same store, even though I can never quite remember where this store is. On this trip, it took me two days to find it. I remembered that it was next to a big shopping mall, that there was a bridge nearby and a big screen across the street. That's all I remembered. It's actually quite a miracle that I found it again on the night before I left Bangkok. But I accomplished my mission and left with five new pairs of jeans!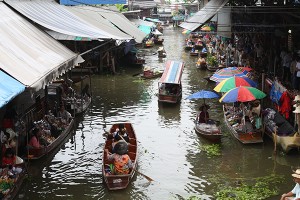 Every time I come to Bangkok, I visit exactly one new sight. On this trip, I visited the floating market for the first time. I was told that it was a tourist trap with women mostly selling souvenirs from boats rather than anything else. And it's true, the floating market seems to mostly exist for tourists, but somehow I didn't mind, I still found it to be very entertaining. It's a very colorful place with women selling fruits, souvenirs and other food from their boats. Some of them even had little stoves on their boats to make spring roles. I toured the place, took a bunch of pictures and then did what I always do, sat down with the locals and tried to chat with them. Despite the tourists, it was definitely a worthwhile day-trip.
I sort of took a camera break when I was in Bangkok, but here are a few pics of the floating market.
I also made a short summary video of my time in Singapore and Bangkok.