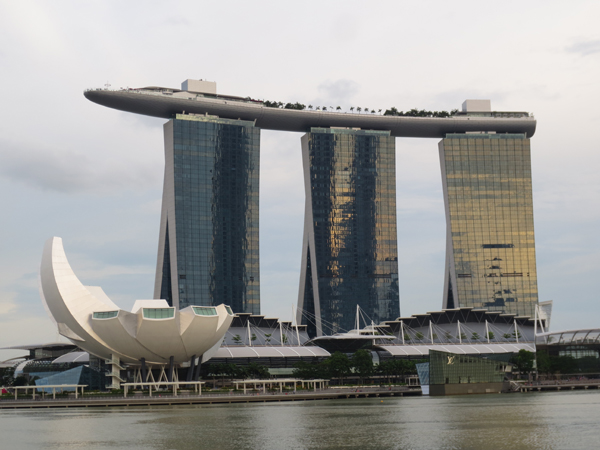 My departure from Malaysia was more than just agitated. I flew from Tawau to Kuala Lumpur and then from Kuala Lumpur to Singapore. Both tickets were booked with Air Asia. But since Air Asia is one of these super cheap airlines, they don't make sure that you make the connection.
My first flight was 40min late, I had 50 min till the next flight. When I arrived at the check-in counter in Kuala Lumpur, they told me that check-in was closed. I pleaded with them for a little while, but there was nothing they were willing to do. I asked them if there was anything else I could do, and the lady said I could try to go to boarding but that they would not let me into the airplane with my big backpack. I thought about it for a second and decided to give it a try. Never give up.
I had 15 min left till the scheduled departure, so I ran as fast as I could with my two bags. It felt like an obstacle course. First checkpoint: immigration. Other tourists were kind enough to let me in front of the line. Second checkpoint: bag scanning. Again, tourists let me in front of the line. For a moment I was worried my big backpack wouldn't fit through the scanner, but it did! However, I had a small pair of scissors in my big backpack. The security guy approached me. By now I was out of breadth from all the running. I explained that I was going to miss my flight. I would have happily left him my scissors, but taking them out of my bag would waste some very precious minutes. I looked at him pleadingly, he didn't say a word but turned away and sat back down. I took it as an "Ok, go" and ran. Third checkpoint: boarding. Luckily the guy was too busy chatting with his colleague to notice that I clearly didn't respect the one piece 7kg hand luggage rule. Thank God! I ran further: 800 more meters to the aircraft. Last checkpoint: boarding the aircraft. The stewardesses looked at me and smiled. No mention of my backpack. Yes! Now I just had to fit my bags into the hand luggage compartment. One steward even approached me to help. I'm finally sitting down. By now I am a tomato red bundle of sweat breathing heavily in the middle seat between two businessmen. I attempt to sit still and act as discretely as I can. It is 2.38pm, 2 minutes before the schedule departure. I made it, I made it, I made it! I am still in a state of disbelief….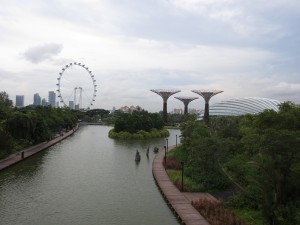 Singapore felt like a vision, too good to be true! It has the cleanliness and orderliness of Switzerland, the entertainment program and shopping malls of Las Vegas, and the diversity and foodiness of San Francisco! The people speak and look like Malay but act with the friendliness, helpfulness and politeness of Japanese. A dream come true! Singapore is a heaven for any tired traveler. It was exactly what I needed.
The first evening I went straight to the waterfront. I was supposed to meet a friend there, but she didn't get my message, so I went for coffee and cake instead. There was all sort of activity at the waterfront: free concerts, a light and water show, food stalls. It was great! I was just taking a stroll along the water and absorbing all of it. I also had three different meals that night. When I got to Singapore, I felt absolutely starving. The food I got while diving caused me stomachache, so I had only eaten rice for days. And here I was, in Singapore, with cakes, ice cream, Japanese izakayas, pizza, steak,cocktails…. a dream!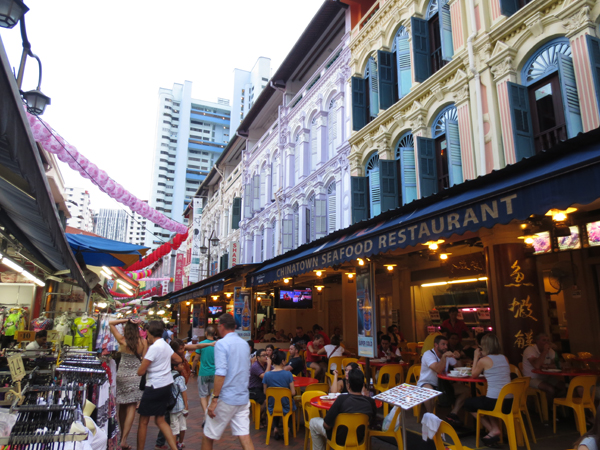 Singapore is really a tiny place, but one thing that is neat about it are all the different districts. There is a little India, a Chinatown, and an Arab quarter, a shopping district, and a waterfront district. The second day I was just exploring all of these different neighborhoods. The little India was very authentic and definitely brought back memories from my time in India. It was crowded and chaotic, smelling like incence and spices, and full of Indians advancing very slowly (shanti shanti),… the only thing missing were the cows!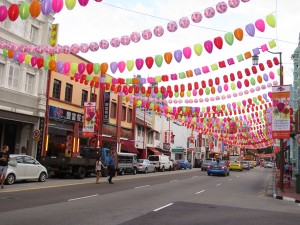 The shopping district was out of this world. The giant malls of Las Vegas feel very suburban compared to it. Every mall is at least 7 storeys high and there is no brand you won't find in it. I only bought a few basic items, but enjoyed walking through the malls. Many of them were also interspersed with art exhibits. I loved the young talents exhibit! There were also some interesting fusion restaurants there. I found a Japanese-Italian dessert place and got a green tea creme brulee with marshmallows. Not bad at all. I was tempted by the dessert bento box, but it would have been too much for one person.
The chinatown was also very charming. Because there was a festival, all streets were illuminated with paper lanterns. It was very beautiful to look at. Strangely, I found a hindu temple in Chinatown, another example of how all cultures come together in Singapore. I took a stroll through the Chinese night market and then went back to the waterfront and had a cocktail by the water. A perfect night!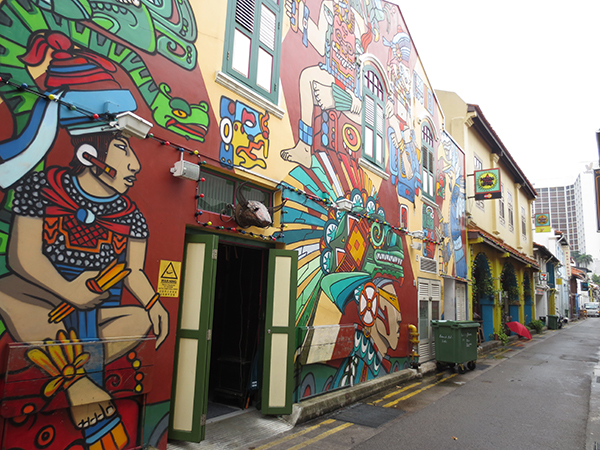 Unfortunately, for the remaining two days I had in Singapore, it was mostly raining. So I didn't go to the botanical garden or the island that is off Singapore. I did make a quick stop at the Garden by the Bay and also visited the night safari. I am no fan of zoos. I don't believe in locking up animals for our entertainment. However, the grim reality of things is that many species will only continue to exist in zoos. Also, I felt that going to Singapore without going to the night safari was like going to Las Vegas without seeing a Cirque du Soleil show. I enjoyed the night safari, it was a fun concept. One of the nice things about it is that I got to see animals like the flying squirrel or the tasia that I was hoping to see in Malaysia, but did not see there. Since i had time, I participated in a quiz while walking through the park. As a reward for completing the quiz, they gave me all kind of souvenir goodies (magnets, pens, a plush giraffe, …). I am not sure what to do with all of this, but I am still amazed at how nice Singapore people are.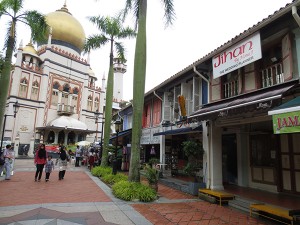 On my last day, I made a final visit to the Arab quarter which ended up being my favorite! There were some classic buildings full of ornaments, but also many hip buildings with nice graffiti. The whole area felt very up-coming with very specialized stores. My favorite store ended up being a perfume store. I have never been much interested in the perfume industry, but this store was different. It felt like a beautifully designed chemistry lab. There were all sorts of bottles along the wall that I could smell, and the key was then to make your own fragrance by combining the bottles. Of course I didn't get to combine the bottles myself, but I got to pick the ingredients. I spent almost two hours refining my fragrance. I ended up making two perfumes, Floraine #1 and #2, that I love, love, love. Most of the ingredients won't surprise you knowing me: vanilla, chocolate, mango, tea, tomato leaves, orchids, chilli. It's great that I now have a perfume that combines so many of the ingredients that I love and it was the perfect way to finish my time in Singapore.
Singapore was a real blessing and the perfect break from the rest of Asia. I feel re-energized for the second half of my trip. And from now on, I will be sure to stop in Singapore whenever I go anywhere in Asia. The city just has so much character and is ideal for a short stopover.
See more photos here.
I also made a short summary video of my time in Singapore and Bangkok.