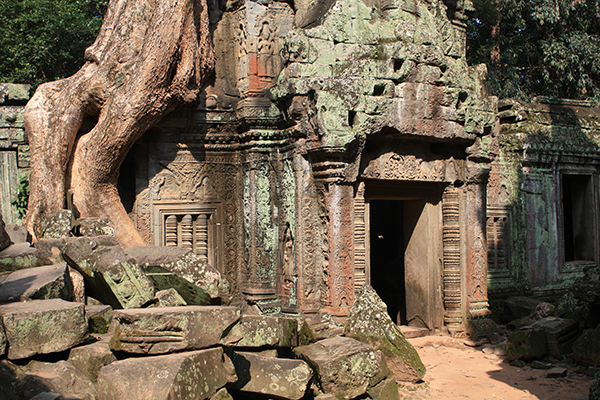 I only visited the town of Siem Reap in Cambodia, which is the town immediately next to Angkor Wat. 11 years ago, when I was still in high school, I met a British girl called Rachel on a trip to South Aftrica. In South Africa, we both traveled on a hop-on hop-off tourist bus along the coast from Cape Town to Johannesburg. We were both by ourselves and ended up meeting each other again and again at different stops. It turns out Rachel got stuck in Cambodia on a Southeast Asia trip and together with her husband Simon opened a guesthouse in Siem Reap.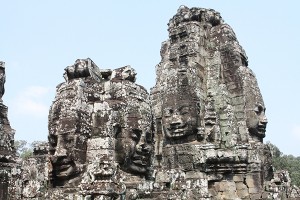 Once social media came along, Rachel and I stayed in touch through Facebook, and I was fortunate to see how Rosy's guesthouse really took shape. So of course when I went to Siem Reap, I was going to visit Rachel and stay at her guesthouse. It was a really fantastic experience and it was nice to see a familiar face on my trip. Since Rachel had been living in Cambodia for roughly six years now, she also had lots of advice on where to go and what to visit. Then, I was also particularly fortunate that two other friends of Rachel, Emily and Saadat, were also visiting at the same time. This meant that we could do a lot of things as a group. Of course Rachel, who had a guesthouse to take care of and two kids, was not able to be with us at all times, but she usually joined us in the evening for dinner and drinks.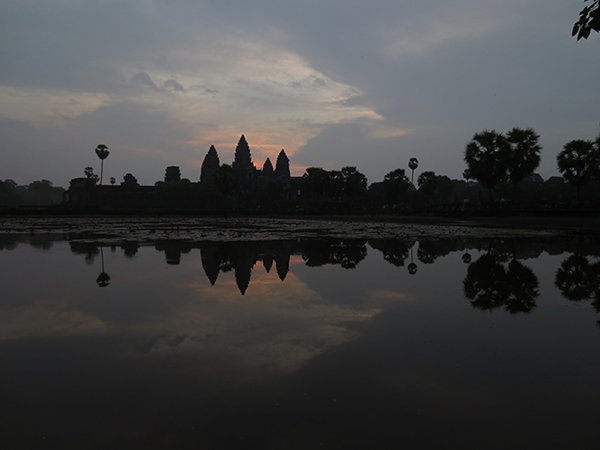 The city of Siem Reap is incredibly developed and touristy. This may not be surprising, given that Angkor Wat is listed as one of the world wonders. But only a few years ago, there were no paved roads in the area and plenty of landmine warnings around the temples, which seems almost hard to believe at this point. Now Siem Reap is a row of westernized hotels, restaurants and tourist souvenir shops. Of course all roads are paved, and there are dozens of tour buses wherever you go.
The site of Ankor Wat and all of the surrounding temples were really stunning in a way that cannot be described in pictures. The mere idea that the city of Angkor had one million inhabitants in the 9th century when London only had 50,000 is quite impressive. All of the bas-reliefs around the temples are also truly stunning. You can visit Angkor Wat and the surrounding area by tour bus, tuk tuk or bike. Despite the heat, I chose the bike as I prefer being able to visit places at my own pace. I really enjoyed the archeological sites and I am glad I visited them, but I must say that all of these tour buses also take some of the charm away.
I was very happy when on our last day, we visited a temple site two hours away from Siem Reap, called Beng Mealea. First of all, this site was way less touristy. It also hadn't really been restored and the temple was basically in the middle of the jungle. There were stones lying around everywhere, and nature was claiming the area and growing all over the site. There was a path designed for tourists to visit the temple, but there were also many people waiting by the temple to give you a tour inside of the complex. The tour was definitely off the beaten path as you had to climb on many complex structures and make your way through hidden hallways. It truely felt like an Indiana Jones experience. I loved it! Without a doubt, Beng Mealea was way less impressive than the main temples of the Angkor Wat site, but in many ways the whole experience and the way you had climb and discover the site for yourself was more suited to my personality. It was the highlight of my Angkor Wat visit and a great way to finish my stay!
See more photos here.
Practical Information: I visited the Angkor site in three days, but there are literally so many temples that you could spend a full week or more in the area. The temples that you should not miss are: Angkor Wat, the Angkor Tom complex (including Bayon, the two terraces and Baphuon),  Ta Prohm, Preah Khan, Neak Pean, and further away from Siem Reap: Banteay Srey and Beng Mealea.
I also went to see Ta Som, Mebon, Pre Rup, Sras Srang and Phnom Bakheng, but they are not that special.