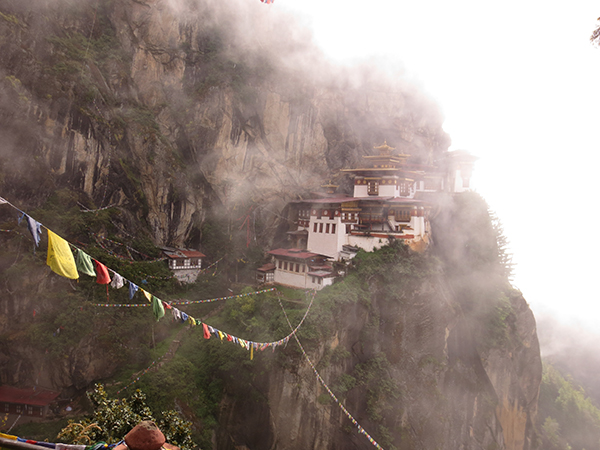 Every trip in Bhutan finishes with a hike up to the Tiger's Nest, so did mine. The tiger's nest, a monastery built on a cliff, is an emblem of Bhutan. No matter how many images you have seen of it, it is still a magical place to visit.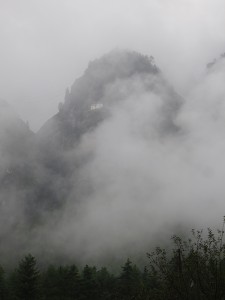 We left very early from the hotel and had to hike up several hours. The hike was tiring, but not very challenging. Many tourists (sadly) choose to get up to the Tiger's nest using a horse. I can't help but feeling very sorry for the horses. The path is very steep and I have seen more than one horse refusing to go up.
At the beginning, it didn't look like it would be a sunny day. In fact, it was so cloudy that I got worried I wouldn't be able to see the monastery. But eventually it cleared up and I got some really gorgeous views of it.
One of the reason's locals go up to the tiger's nest is to obtain a name for themselves or their future children. Of course, I also requested a name when I got there. I had to pull out two little pieces of papers from a box. The combined pieces made my name: Sherab Dema. Sherab means wisdom and Dema refers to some deity. So the combined name means something like "divine wisdom". A fun coincidence is that my Chinese name, Fu3 Rui3, that has been given to me by my Chinese language teacher to phonetically match "Floraine" also means something like divine wisdom. Good thing I am not superstitious, otherwise I would need to start living up to my names.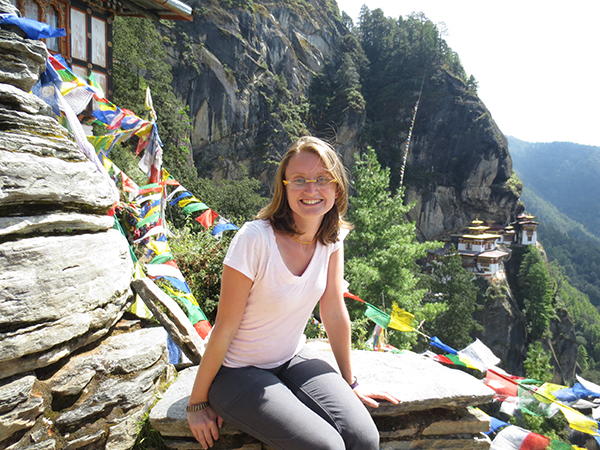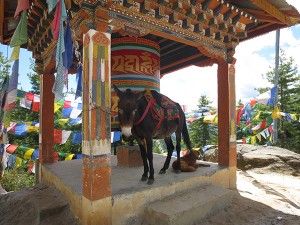 Hiking up to Tiger's nest was a beautiful way to finish a wonderful trip. In the evening all of us, including Savitri, her sister, Sarap, and my driver, went for a farewell dinner. Savitri also made me a wonderful gift, a snow globe containing a small sculpture of the tiger's nest. There is a limited number of these snow globes and only people having a connection to the royal family can have one. It's the typical kind of gift you would be getting from the royal family. It came in a beautiful box that had the flag of Bhutan printed on it. What a wonderful gift! Except that it is not the easiest thing to carry around on a 3 month long trip…
I really enjoyed my time in Bhutan. It's a strange place in the sense that there are only so few people in Bhutan. Driving through Bhutan feels like driving through a nature park. The kingdom also took an interesting approach to making sure people maintain their traditions, by forcing everyone to wear the national dress. This leads to fun style clashes with people wearing traditional clothes with fancy sneakers. The people in Bhutan were wonderful. They were friendly, welcoming and ready to share their ways of living. Especially my team (guide, driver etc.) were delightful and fun to be with. Bhutan also came with a few surprises. For example, I didn't know Bhutanese were such partiers. Almost every night my team was ready to get drunk and celebrate. I also didn't expect people (especially monks) to be so much into gambling and street fairs, and I have trouble understanding the plastic gun fashion among young monks… It is true that tourism in Bhutan is targeted for the comfort level of middle age visitors. However, my guide did a fantastic job at providing me with the off-the-beaten path experience I was looking for. I really enjoyed being welcomed in so many homes. It's also the first time ever that I traveled with a guide and driver. Certainly, this means you can just chill and relax while your team organizes everything for you. But I must say, it's simply not for me. I had the best possible team, but I also just enjoy the challenge of having to figure things out myself, and I enjoy the freedom of not knowing where I will be tomorrow. Overall, I would go back to Bhutan, in particular I am tempted by the snowman trek…

See more photos here.
Here is also a summary video of my time in Bhutan.